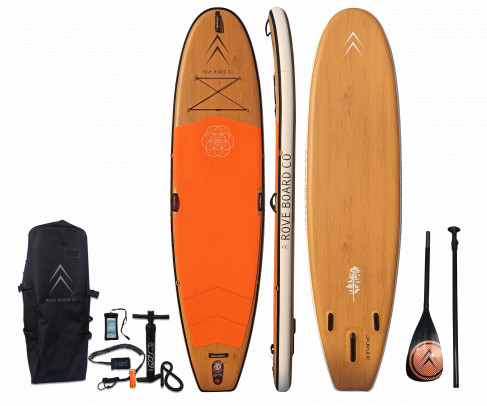 Rove. Drift. Roam. RECONNECT WITH NATURE.
Overview
The Spirit iSUP is an inflatable version of our best selling board. Most loved for its stability, versatility & good looks, The Spirit iSUP is not only wider, but more durable than the average iSUP with its double layer construction & premium woven dropstitch core. It comes with all necessary equipment, including a carbon fibre paddle, removable kayak seat, & four carrying handles placed away from the traction pad for ease of movement (a yogi favorite).
The Spirit iSUP is perfect for yoga, day-tripping with your pup, or those oh-so-wonderful lazy cottage days. It is wider than the average SUP at 34'' and features four carrying handles placed away from the traction pad for ease of movement, especially during those yoga sessions. The board package includes a 3-piece full carbon fibre paddle, dual-action pump, 10ft coiled SUP leash, repair kit, removable kayak seat, and a travel backpack with wheels as well as chest and waist straps for added support and better weight distribution. The double layer PVC construction and premium woven dropstitch core allows the board to handle high pressures, & makes for a stiffer board with a higher weight capacity. The Spirit iSUP is storage & transportation friendly, and features a removable tri-fin system, deck bungee for on-water storage, and our premium EVA non-slip traction pad.
Highlights
Wider board offering extra stability & a higher weight capacity

Includes all accessories & equipment, with a removeable tri-fin setup

Double-layer construction with premium woven dropstitching

4 Carrying handles intentionally placed away from premium EVA traction pad

D-ring attachment points, deck bungee, removeable kayak seat
Available Colours
Orange
Tan
Brown
Black
White
Rove. Drift. Roam. RECONNECT WITH NATURE.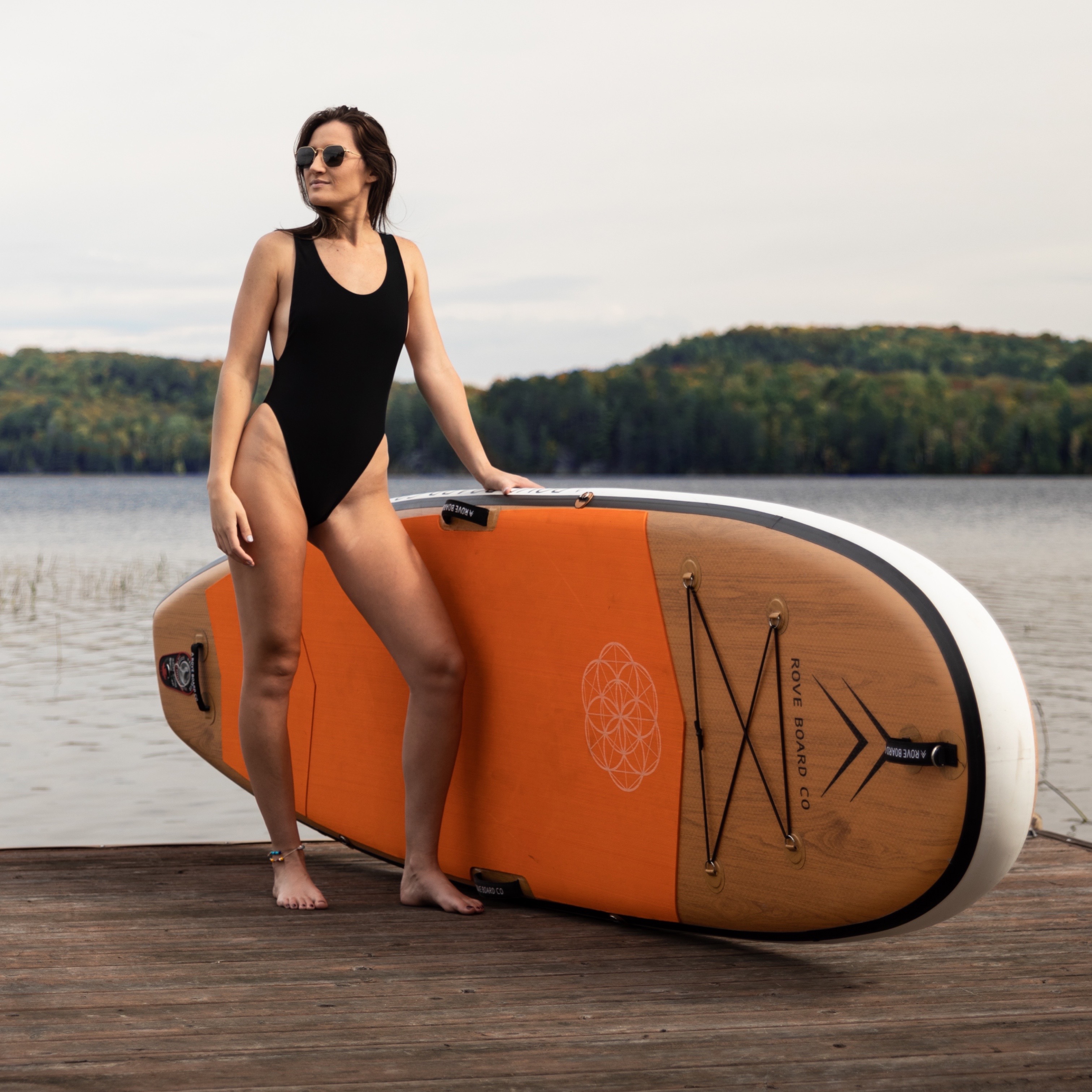 Features & Specifications
Overview
Model Year:

2023

Category:

Paddleboards

Paddleboard Type:

All-Around, Yoga, Fishing

Paddlesport:

Paddleboarding

Number of Paddlers:

Solo

Structure:

Inflatable

Propulsion:

Paddle

Best Used For:

Recreation, Fishing, Expedition, Yoga, Ocean Play, River Running, River Play

Intended Waterway:

Lakes, Ponds & Inshore, Rivers & Creeks (Class I-II), Whitewater (Class III+), Open Water & Ocean, Rock Gardens

Specifically Designed For:

Women, Larger Adults, Average Adults, Smaller Adults, Pets, Beginners, Family
Specifications
Length:

10' 8" / 325.1 cm

Width:

34" / 86.4 cm

Board Thickness:

6" / 15.2 cm

Volume:

89.9 gal / 340 L

Weight:

21 lb / 9.5 kg
Features
Primary Shell Material:

PVC

Core Material:

Drop-Stitch
Outfitting
Number of Fins:

3

Features:

Deck Bungies, Deck Attachment Points
The Spirit iSUP boasts a double-layer construction with a premium woven dropstitch core which allows the board to hold more pressure and in turn, more weight. This construction is the reason The Spirit iSUP comes out on top in stiffness, durability, and strength. It also might be why it's so hard to believe it's an inflatable... but hey, don't take our word for it, see for yourself.
The removable kayak seat (included with purchase), only makes The Spirit iSUP *that* much more versatile. Tired of standing? Looking for a lower-intensity paddle? How about a hybrid SUP-kayak? We got you covered.
Like the rigid model, The Spirit iSUP is an all-around board. It has a moderate nose rocker meaning the board performs beautifully in flat water but can easily handle waves, and higher intensity ocean or whitewater paddling too. The extra width and higher weight capacity gives the board strength, versatility, and stability, which are key for activities like yoga or fishing. Emblematic of our entire Spirit lineup is the Seed of Life printed on the traction pad; this is an ode to nature and a grounding reminder while you're paddling that we, and all life on Earth, is interconnected.