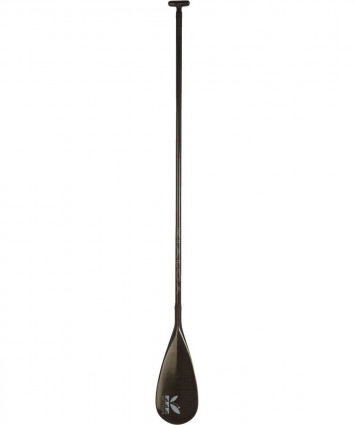 Overview
The GL Surf II, (named for our friend and neighbor Gerry Lopez) is our surf specific paddle featuring a Carbon Foam Core symmetrical blade for easy skimming and rounded blade edges that protect your board. The 90 square inch blade gives the right balance of power in the surf. Internal carbon edgebanding provides excellent durability to the edge of the blade. We combine this blade with an extremely light, durable and responsive Black carbon shaft or Hi-Vis™ carbon shaft
and top it with our fixed Carbon Ergo-T™ Grip, providing the lightest weight option for high performance paddlers. Each of our Carbon Foam Core blades is handmade in the USA.
Highlights
Durable and responsive carbon shaft with optimized flex for surfing.

Internal carbon edgebanding for stellar blade durability.

Available in adjustable lengths.
Features & Specifications
Overview
Model Year:

2022

Category:

Paddleboard Paddles

Best Used For:

Surfing
Specifications
Blade Length:

17" / 43.2 cm

Blade Width:

7.5" / 19.1 cm

Blade Surface Area:

90 sq in. / 580.5 sq cm

Weight:

20 oz / 0.7 g

Fixed Lengths:

Untopped, 68"-86"
70"-86"
Features
Blade Style:

Tear Drop

Blade Material:

Carbon Composite

Shaft Type:

Straight, Adjustable Length, Fixed Length

Shaft Material:

Carbon Composite

Grip & Handle:

T-Grip

Number of Pieces:

1, 2

Features:

Foam Core Blade

Blade Shape:

Symmetrical