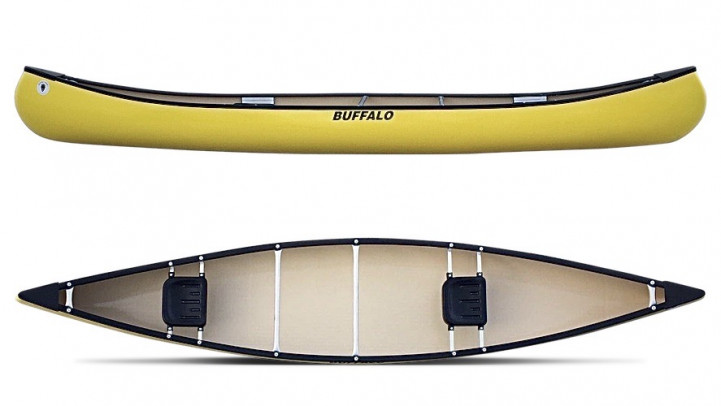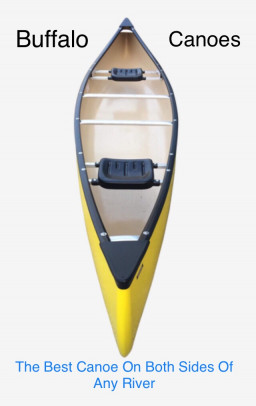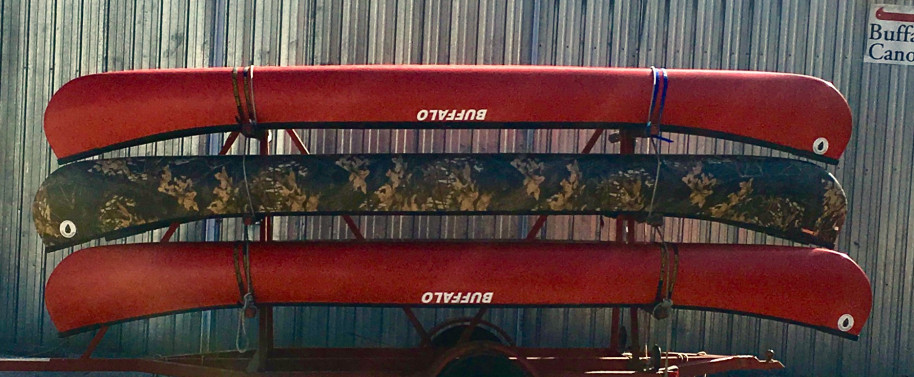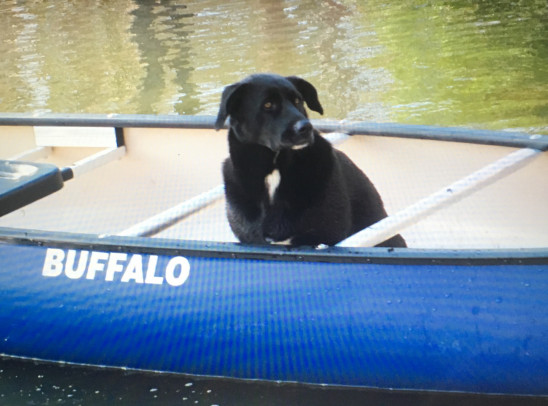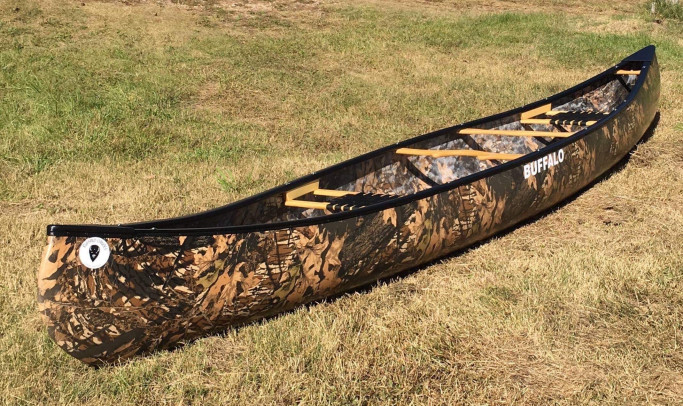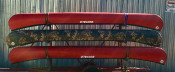 The Best Canoes On Both Sides Of The River
Overview
At Buffalo Canoes we take pride in producing what many whitewater enthusiasts consider to be the best 16' All Purpose Tandem/Solo Whitewater Canoe. The New T-Formex plastic layup combined with experienced craftsmanship make this canoe one of the most popular boats in it's class. A Buffalo Canoe is Durable and Versatile enough for any waterway, from Whitewater to Flat Water. We build your canoe with the best materials, to insure a lifetime of safety and adventure.
Since 1992 we have been striving to become the canoe of choice for paddlers who desire a comprehensive, all purpose boat. You will enjoy the many different ways a Buffalo Canoe can be used. Whether you want to Paddle Solo or Tandem, River Run, Creek Run or relax and enjoy a Touring, Tripping or Expedition experience. A Buffalo takes you to a place called Fun and it gets you there safely. Prepare to Paddle !!
Highlights
We build special order canoes.

We sell canoe parts and used canoes.

Extra patches are added for strength for longer wear.

2" drop seats for more stability.
The Best Canoes On Both Sides Of The River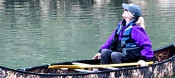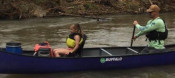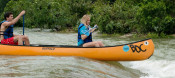 Features & Specifications
Overview
Model Year:

2020

Category:

Canoes

Canoe Type:

Lakewater & Touring, River Tripping, Whitewater

Paddlesport:

Canoeing

Number of Paddlers:

Solo, Tandem

Structure:

Rigid or Hard

Propulsion:

Paddle

Best Used For:

Whitewater

Intended Waterway:

Rivers & Creeks (Class I-II)
Specifications
Length:

15' 10" / 482.6 cm

Weight:

72 lb / 32.6 kg

Capacity:

1200 lb / 543.6 kg

Depth at Bow:

25" / 63.5 cm

Depth at Center:

13.75" / 34.9 cm

Depth at Stern:

25" / 63.5 cm

Width at Gunwales:

35" / 88.9 cm

Bow Rocker:

2.5" / 6.4 cm

Stern Rocker:

2.5" / 6.4 cm
Features
Primary Material:

Plastic Laminate ie. T-Formex, Royalex

Hull Shape:

Shallow Arch
Outfitting
Gunwale Standard Trim:

Vinyl

Gunwale Trim Options:

Vinyl
Buffalo Canoes are made with T-Formex, a high tech plastic layup designed to be rugged, tough, flexible and buoyant. It resists abrasion and direct impacts better than any open boat canoe on the market. One of the superior characteristics of T-Formex is it's structural memory. In the event of an unfortunate impact of being wrapped, it will return to its original shape with minimal distortion, allowing the paddler(s) to continue on their journey. This revolutionary material will also bond with all epoxy type adhesives for skid padding purposes, if ever needed. At Buffalo Canoes Manufacturing our number one priority is to build a canoe that is safe, durable and will last our customers a lifetime.
You will love our unique variety of amazing bright, sleek and shiny colors. The smoothness of the exterior allows the boat to travel fast and avoid abrasions. In the Traditional Colors Edition, choose from Yellow, Blue, Red, Green or Olive. ~ The Real Tree Camouflage Edition ($2340.00) includes Brown, Tan and Red ~ The Double Up Edition includes the same interior color and same exterior color for example, Blue/Blue, Red/Red, Yellow/Yellow and Green/Green ($2275.00). We also offer a Custom Edition that includes beautiful wood trim (2,850). The Countdown price is $1895.00 for any of the three Editions before Jan 1, 2021. Visit our website at buffaloecanoemanufacturing.com to order yours before everyone else does. Click on the Action Button that reads Contact Us and complete your request under the Inquiry label, then just tap send. We will check for orders daily and reply back within 24 hours if not sooner.
The process of constructing your Buffalo Canoe begins with a 16 hour curing session that releases the proprietary makeup throughout the plastic for hull integrity. This is followed by another heating session that initiates the molding action. The canoe is then placed into the mold and vacuum formed. Once cooled and hardened, our team of skilled craftsmen attach the Gunnels, Seats, Seat Drops, Thwarts, End Caps, Serial Number Plates and Decals. Before leaving the shop, each canoe is inspected for quality assurance and safety.
What Users Are Saying
I have owned my Buffalo for 4 years. If you are wanting a canoe that is truly "all purpose" , you can't miss on this one. The t-formex brand hull is as tough as I had read about. It's big enough to be a sporting tandem canoe, even in Class III water and It's nimble enough to be a great solo boat in any whitewater.
- CW Wise
Reviews
2
5
Based on
2
customer
reviews
Best canoe I ever owned. Great in everyway. Get one and enjoy!
Was this review helpful to you?
I've had mine more than 30 years. It was recently damaged while in storage. The original owner, Gary Gordon, repaired it. His hands have been on every Buffalo Canoe ever made. Nowhere else can you get that degree of craftsmanship and experience. Buy one; use it for a lifetime; hand it down to the kids.
Was this review helpful to you?