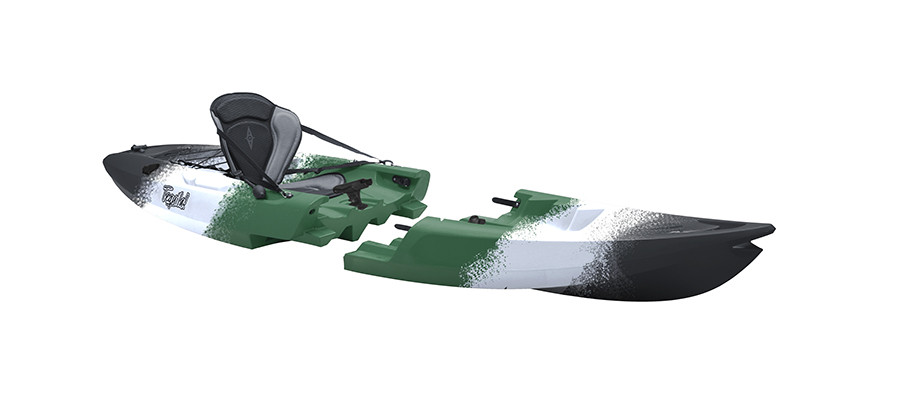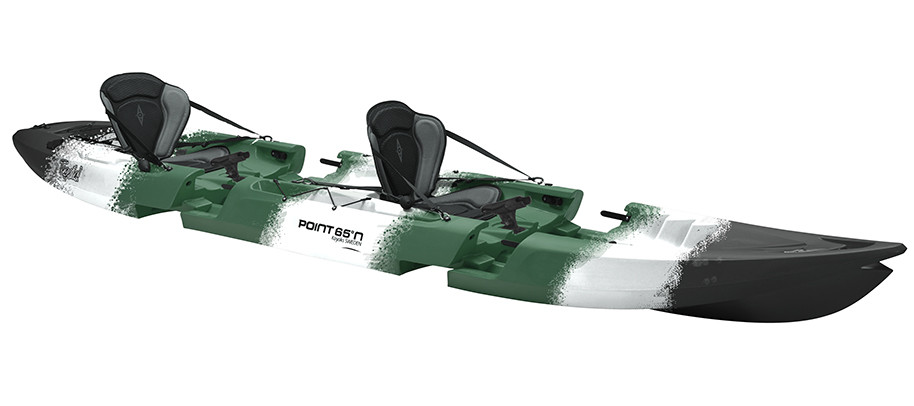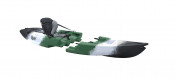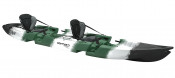 Point 65 Sweden is a leading outdoor brand specialising in backpacks & kayaks since 1996.
Overview
The Tequila! Angler is a modular fishing kayak that you can carry with a smile on your face, transport in the back of most cars and store under your bed. With the patented Snap-Tap system the Tequila! Angler snaps apart into manageable sections and reassembles in seconds. The Tequila! Angler is a safe, stable, and strong fishing kayak. This 10-foot boat sports a 300-pound weight capacity., yet due to its tracking keel, it still paddles straight as an arrow.
Possibility to go double, triple and more! Planning on adding to your flock? No problem, Tequila! GTX Angler is compatible with Tequila! Mid-Section which allows you to transform your Solo into a 14 foot high-performance Tandem. Add a second mid-section and you have lots of carrying capacity and room for whatever fishing gear you want to bring. Or for a third paddler. The Tequila! Angler is packed with "must have" features that kayak anglers demand. From lakes to rivers to the open ocean, this boat has no boundaries. The solo and the mid-section alike come equipped with rod holders. Two of which are integrated, flush-mounted behind the seat and one is on a deck mount in front of the paddler. This deck mounted rod holder can be removed and replaced with any compatible hardware of your liking. The Tequila! Solo, as well as the mid-section, are equipped with two additional deck mounts to enable the owner to add more rod holders.
Highlights
Modular/Take-a-part

Solo/Tandem combination - or more

Fitted for fishing

Easy to transport/store

Equipped with super comfy AIR seat
Point 65 Sweden is a leading outdoor brand specialising in backpacks & kayaks since 1996.

Features & Specifications
Overview
Model Year:

2020

Category:

Kayaks

Paddlesport:

Kayaking

Number of Paddlers:

Solo, Tandem, 7+

Structure:

Rigid or Hard, Modular

Propulsion:

Paddle

Intended Waterway:

Lakes, Ponds & Inshore, Open Water & Ocean

Specifically Designed For:

Women, Larger Adults, Average Adults, Smaller Adults, Kids
Specifications
Length:

9' 8" / 295 cm

Width:

30" / 75 cm

Weight:

49 lb / 21 kg

Capacity:

270 lb / 120 kg
Features
Primary Material:

Rotomolded Plastic

Hull Shape:

V-Bottom

Chine:

Multi-Chine

Self Bailing:

Yes

Storage:

Stern Tankwell
Outfitting
Seat:

Adjustable

Rigging:

Rod Holder(s), Cup Holder, Carry Handles, Drain Plug
SOLO OR TANDEM - ALL IN ONE The Tequila! GTX is designed with both kids and adults in mind. Whether paddling, fishing or just relaxing, this stable, strong and high- performance kayak is the ideal choice for family fun on the water. Get the extra midsection and there will be no need to buy two kayaks. Snap in the mid-section and your single seater is transformed into a high-performance tandem, so you can bring a friend. The record so far? LL. Bean put together a 100-man kayak using the Point 65 Tequila! for their 100-year anniversary event. Never before has a kayak been so much fun and so easy to own. In fact, the only thing you'll need to worry about is deciding whom to bring.
ULTIMATE SEAT COMFORT The Tequila! GTX is equipped with a super- comfortable AIR seat. The AIR seat, with a pneumatically adjustable backrest, gives the paddler an extremely comfortable and perfectly adjustable seating position. The seat covers are made of highly durable and comfortable, honey-comb patterned material in combination with mesh-like fabric which is laminated and molded over EVA foam.
PERFORMANCE KAYAKING With its new tracking keel the Tequila! GTX paddles straight as an arrow. With Point 65 ́s innovative patented Snap-Tap solution, the single-seater snaps apart and re-assembles in seconds for a kayak that is safe, stable, and strong making it by far the most lightweight kayak on the market. The Tequila! is a rigid high-performance kayak that you can carry with a smile on your face, put inside most cars, and store under your bed.